WHAT IS THE LOW VOLTAGE DIRECTIVE (LVD)?
The Low Voltage Directive (Directive 2014/35/EU) outlines essential safety requirements for electrical equipment operating with a voltage between 50V and 1000V for AC and 75v and 1500v for DC (direct current). The voltage limits relate to the voltage of the electrical input or output not to voltages generated within the equipment.
When a manufacturer is satisfied that their product complies with the Low Voltage Directive then they must affix the CE Marking on their product.
One route to demonstrate compliance with the Low Voltage Directive is to design and test a product against a published product safety standard. Fire and security companies have traditionally referred to IEC60960-1 (ICT equipment) and IEC 60065 (AV equipment), however, these standards have now been superseded with IEC 62368-1, in North America and the EU.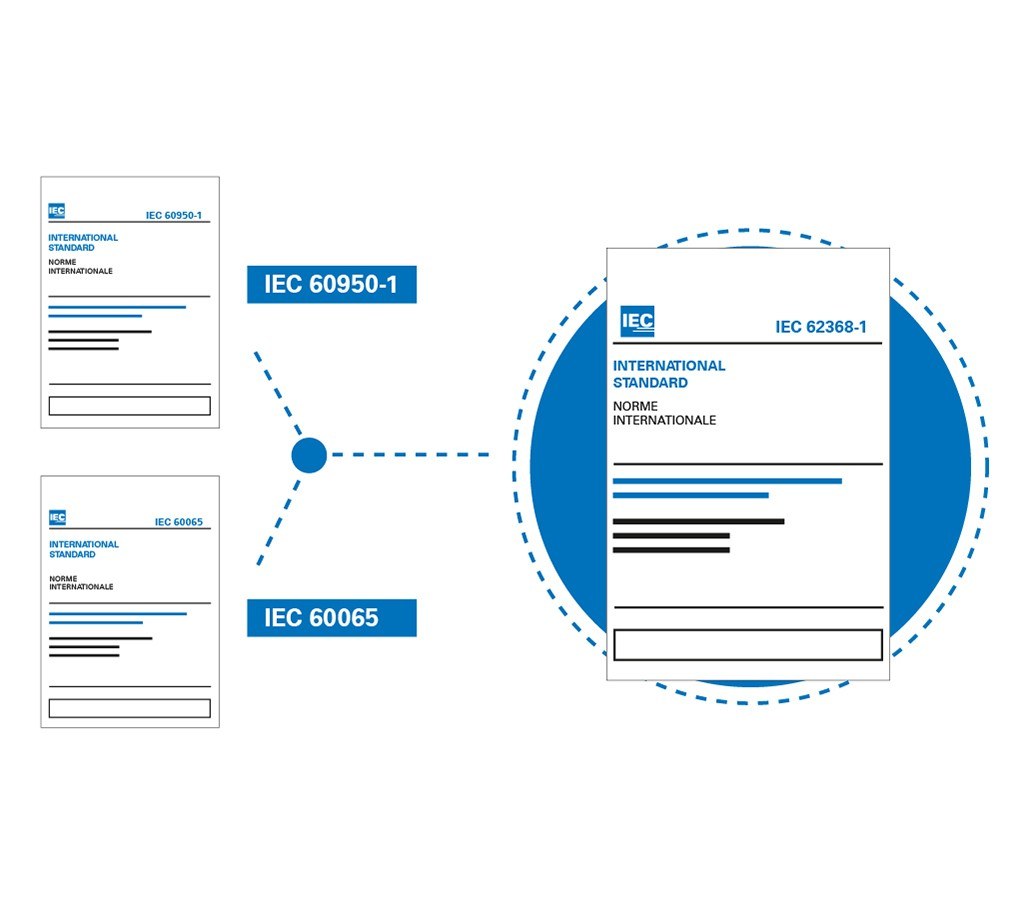 WHAT IS IEC 62368-1?
IEC 62368-1 2nd Edition is set to supersede IEC 60950-1 for ICT equipment and IEC 60065 for AV equipment.
The change is more than just a merger of two safety standards, because 62368-1 adopts different engineering principles and terminologies. As with any update in standards there will be a number of existing products that comply with 60950-1 or 60065 that will need to be reviewed to meet the criteria of the certification.
To help manufacturers manage the transition, both American and European bodies have agreed upon the date from which the 60950-1 and 60065 standards will finish and 62368-1 will take over. The date for this transition is December 20, 2020.
Another important point is that 62368-1 applies not only to end-user products but also to their components including power supplies and batteries. Original equipment manufacturers need to keep this in mind when sourcing acceptable parts between now and December 2020, and onwards when only 62368-1 will apply.
EQUIVILENTS OF IEC 62368-1
Although in US and Europe they have already published their national equivalents, other regions are still reviewing adoption of 62368-1, including China, Korea, and South America.
Below is a list of regions where IEC 62368-1 standards have been adopted.
US – UL 62368-1
Canada – CSA 62368-1
Europe – EN 62368-1
Mexico – NMX-I-62368-1-NYCE-2015
Japan – JIS C 62368-1:2018
Australia & New Zealand – AS/NZ 62368.1:2018
IS IEC 62868-1 APPLICABLE TO BATTERIES?
The simple answer is YES. For original equipment manufacturers IEC 62868-1 under the Low Voltage Directive is applicable to:
Control and indicating equipment
Power supplies
Components (if they form an integral part of the equipment) and subassemblies of PSU's and CIE's including batteries.
This would mean OEM's will need to source batteries that are compliant to the Low Voltage Directive to ensure their products are also compliant.
This would be applicable for security, fire and life safety manufactures that use batteries within their systems for standby power.
BATTERIES THAT COMPLY TO IEC 62368-1
Batteries fall under IEC 62368-1 and the Low Voltage Directive in relation to their flammability rating, this can be summarized as follows:
If the plastic housing of the batteries are classified as their fire enclosure they must meet at least of V-1 class of flammability
The whole battery classified as resistive PIS then V-1 class of required
Classification of the entire metal outer enclosure of the panel as a fire enclosure then batteries must meet flammability rating of V-2 class
The majority of approval bodies and test houses are using the 3rd classification where the requirement is for all major parts of plastic, including batteries on the inside of the fire enclosure be at least V-2 rated.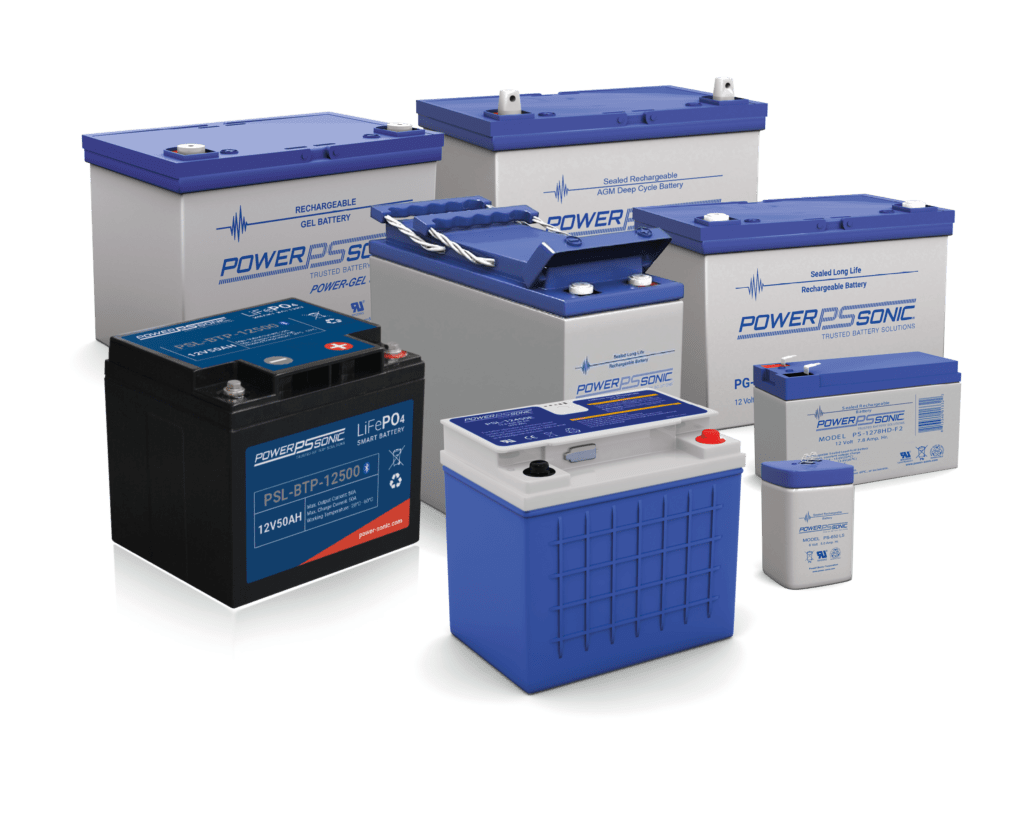 BATTERY FLAMMABILITY RATINGS
At Power Sonic we offer two types of flammability rated batteries. Our standard products (Non FR flame retardant) have a flammability rating of UL94-HB. We also offer our products in a FR flame retardant casing with a rating of UL94-V0.
These means that Power Sonic, by offering their UL94-V0 rated batteries, can offer manufacturers batteries that comply to the Low Voltage Directive and in particular standard IEC 62368-1.
As a reminder here is a summary of the different ratings for flammability of plastic in accordance with UL94.
FLAMMABILITY RATINGS
HB – slow burning on a horizontal specimen; burning rate <76mm/min for thickness <3mm (Power Sonic's standard battery casings are this rating)
V2 – burning stops within 30 seconds on a vertical specimen; drips of flaming particles are allowed
V1 – burning stops within 30 seconds on a vertical specimen; drips of flaming particles are not allowed
V0 – burning stops within 10 seconds on a vertical specimen; drips of particles are allowed as long as they are not inflamed (Power Sonic's flame retardant battery casings are to this rating)
5VB – burning stops within 60 seconds on a vertical specimen; no drips allowed; plaque specimens may develop a hole
5VA – burning stops within 60 seconds on a vertical specimen; no drips allowed; plaque specimens may not develop a hole.
Make sure if your product needs to comply with the Low Voltage Directive that you choose a battery that also complies. Contact us for more details on how we can help with your IEC 62368-1 battery requirements.