Lithium Bluetooth Battery Series
RANGE FEATURES
Bluetooth® communication capability for battery status through Power Sonic free app
Battery Management System (BMS) controls the parameters of the battery to provide optimum safety and performance
BMS enhanced design balances the battery cells and protects against over-charging and discharging
Compact and only 40% of the weight of comparable lead acid battery
Up to 10 times more cycles than lead acid batteries
Faster charging and lower self-discharge
Delivers twice the power of lead acid batteries, even high discharge rate, while maintaining high energy capacity
Super safe chemistry reducing the risk of explosion or combustion due to high impact, over charging or short circuit situation
Rugged impact resistant ABS case and cover flame retardant to UL94:V-0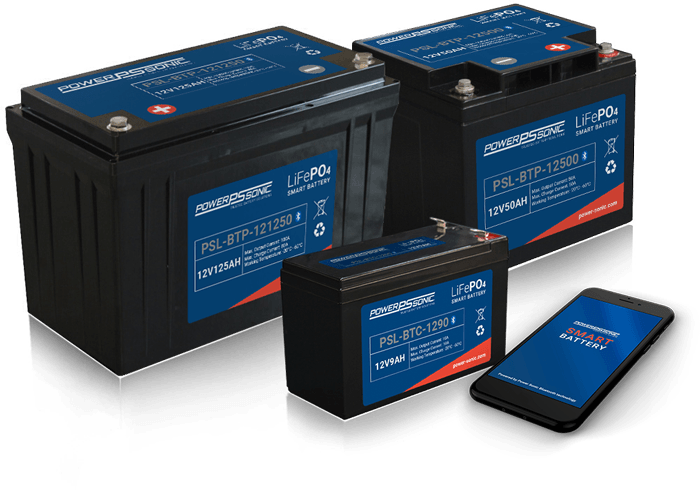 KNOW YOUR BATTERY MODEL NUMBER?
If you know the model number of the battery you are looking for, please enter it below.
Oops looks like something went wrong
DOWNLOAD THE POWER SONIC PRODUCTS BROCHURE
DOWNLOAD
DOWNLOAD THE SERIES SUMMARY SPECIFICATION SHEET
DOWNLOAD
Find a Distributor
Power Sonic have a network of battery distributors throughout North America and around the world
Find my nearest distributor
Speak to an expert
If you need help selecting the right battery for your particular application feel free to contact us, we have a highly trained and qualified team of experts that will be more than happy to help you.
link
The Power Sonic Brand Promise
Quality
Manufactured using the latest technology and stringent quality control, our battery products are designed to exceed in performance and reliability.
Experience
Our focused approach to exceptional end to end customer experience sets us apart from the competition. From enquiry to delivery and everything in-between we regularly exceed our customers' expectations.
Service
Delivery on time, every time to customer specifications. We pride ourselves on offering tailored service solutions to meet our customers' exact specifications.