DC Mobile EV Charging Stations
EVMO-S SERIES FEATURES
Designed for mobile electric vehicle charging
DC fast charging technology made portable
Turns any three-phase outlet into a DC charging station
Hot-swappable CHAdeMO, CCS and GB/T charging cables for flexible multi-protocol charging
High-performance charging module with a wide charging range
150 VDC - 1000 VDC output voltage
Truly portable with robust castors for quick and easy movement
High efficiency at ≥95%
Start charging instantly with immediate deployment
Ideal for various applications, including service stations, auto dealerships, fleet operators, and much more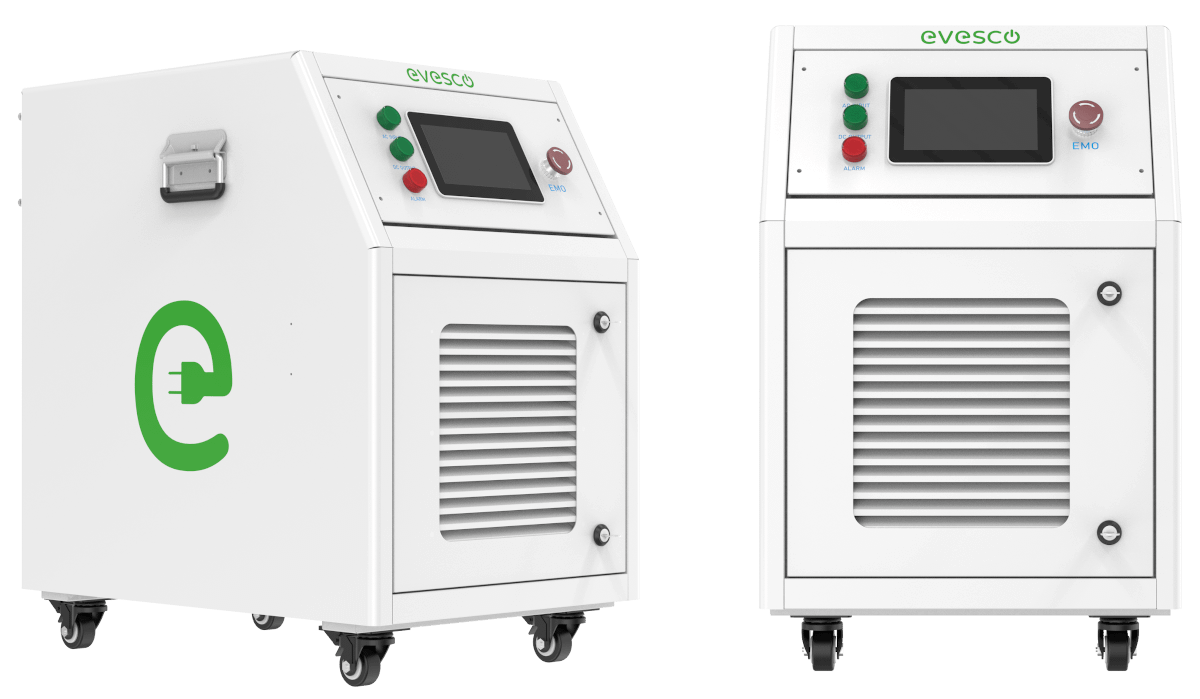 Improve Productivity
By bringing a mobile EV charger to the vehicle you can reclaim the time that would be wasted by moving EVs around to accommodate stationary charging stations

Instant Deployment
Connect to a three-phase outlet and you can start using your portable DC fast charger instantly. No need for any construction work or permitting

Flexible Design
Small and compact, the EVMO-S series was initially designed for service and maintenance environments. It's easy to move and can be connected to any three-phase outlet. Flexible charging with hot-swappable charging cables for CHAdeMO, CCS and GB/T

Faster Charging
The EVMO-S mobile EV charging station utilizes DC fast charging technology and can charge the average electric vehicle in around 30 minutes
See the full range of EVESCO products and solutions
Download Now
Learn how EVESCO energy storage can create value for your business
Learn how EVESCO energy storage can create value for your business
Contact us
Looking for larger scale mobile EV charging solutions?
Learn more about EVESCO off-grid EV charging solutions
link
Quality
Manufactured using the latest technology and stringent quality control, our battery products are designed to exceed in performance and reliability.
Experience
Our focused approach to exceptional end to end customer experience sets us apart from the competition. From enquiry to delivery and everything in-between we regularly exceed our customers' expectations.
Service
Delivery on time, every time to customer specifications. We pride ourselves on offering tailored service solutions to meet our customers' exact specifications.