PowerSteady - Reliable line interactive UPS solutions from 400va to 3000va
In sizes ranging from 400VA to 3000VA the PowerSteady single phase UPS delivers reliable and uninterruptible power protection and battery backup during outages.
FEATURES
Line-interactive technology
Automatic Voltage Regulation (AVR) with boost and buck function
Microprocessor control
Compact space saving design
LCD display
Auto-restart
Smart RS232/USB communication Interfaces
RJ11/RJ45 protection
Cold start function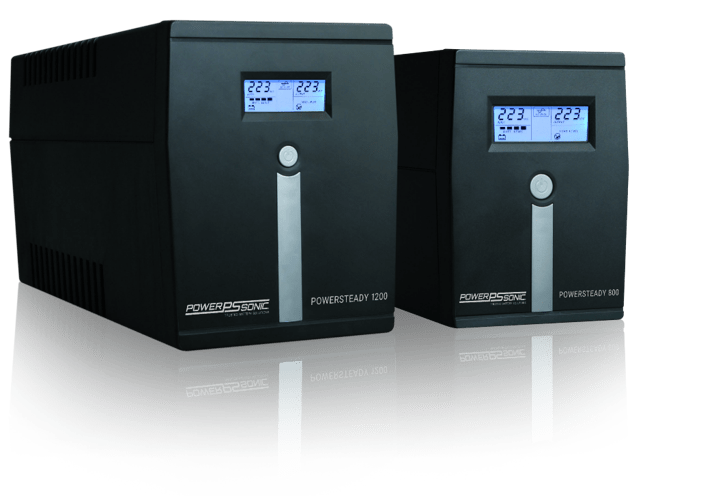 The PowerSteady Series by Power Sonic delivers reliable and uninterruptible power protection and battery backup during power outages. With its compact, space saving design the single phase, line interactive UPS secures your data and your equipment by protecting against damaging power surges and spikes. The PowerSteady comes equipped with smart RS232/USB communication interface enabling the UPS to communicate with multiple devices. This combined with a number of impressive features including auto-restart, charging in off mode, AVR with Buck and microprocessor control makes the PowerSteady UPS ideally suited for computer systems, home networking, gaming, home servers, and other home and office electronics.

RELIABILITY
Line interactive UPS technology helps protect electrical devices against the most common power failures.

SAVE ENERGY
Due to it's high efficiency, power consumption is low. Over the UPS lifecycle the savings in power compared to older systems makes it a great replacement UPS.

SPACE SAVING
Compact design with small footprint for maximum protection in minimal space.

LONGER LIFE
Utilizing intelligent battery management the UPS only charges the battery when needed ensuring maximum battery life.

EASY TO INSTALL
With plug and play installation the PowerSteady is operational within minutes.

HIGH AVAILABILITY
PowerSteady will ensure power protection and deliver several minutes runtime in case of mains failure.

MORE PROTECTION
RJ11/RJ45 protection against spikes and surges for modem/LAN as standard.

EASY MONITORING
Interactive high resolution LCD display with graphic indicators ensures easy UPS system monitoring.
NEED HELP CHOOSING THE RIGHT UPS?
Contact our team of UPS experts today.
Find out more
The Power Sonic Brand Promise

Quality
Manufactured using the latest technology and stringent quality control, our battery products are designed to exceed in performance and reliability.

Experience
Our focused approach to exceptional end to end customer experience sets us apart from the competition. From enquiry to delivery and everything in-between we regularly exceed our customers' expectations.
Service
Delivery on time, every time to customer specifications. We pride ourselves on offering tailored service solutions to meet our customers' exact specifications.