POWERPURE RT - RELIABLE SINGLE PHASE UPS SYSTEM 1KVA - 10KVA
Small and easy to use single phase rack and tower UPS system proving clean and uninterrupted power in 1kVA, 2kVA, 3kVA, 6kVA and 10kVA sizes.
RANGE FEATURES
High frequency and true double-conversion online technology
Unity power factor & low input current THD
High reliability and availability with DSP microprocessor control
1.0 output power factor
LCD display with multifunction settings
Rack/Tower design
Cold start function
Eco mode operation for energy saving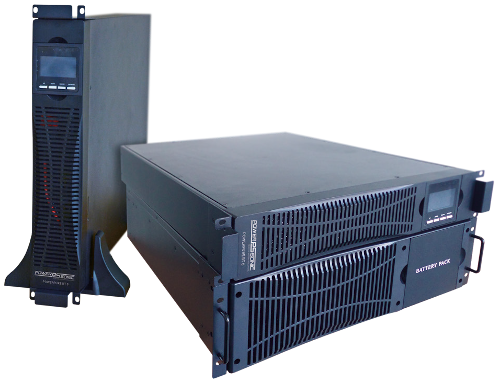 The PowerPure RT series is an online double conversion UPS (uninterruptible power supply) providing stable sine-wave power for your mission critical equipment. It supports computers, servers, networks, Voip and telecommunications.

With a 1.0 output power factor the PowerPure RT series UPS provides 30% more power at the output in comparison to standard 0.7 power factor UPS systems and can support more critical equipment.

The PowerPure RT series features optional external battery packs that can be connected for longer backup time and added flexibility for future demand, this make it an ideal choice for servers with high power density and input power factor.

RELIABILITY
True online double conversion and high performance DSP microprocessor ensure high reliability and availability.

MORE POWER
High output power factor of 1.0 provides more real power to critical loads.

LONGER LIFE
Wide input voltage range and smart battery management reduces the chance of the batteries being used and helps sustain battery life and performance when they are used.

SCALABILITY
Optional external battery packs enable easy scaling and added flexibility for future power demands.

CONTINUOUS OPERATION
Hot swappable batteries and cold-start technology ensures continuous operation even when the batteries are being replaced.

FLEXIBILITY
Convertible rack and tower design in 2U size cabinet makes the UPS flexible as to where it can be used.

SAVE ENERGY
When the power input is acceptable the UPS will switch to ECO mode and increase the power efficiency and provide energy savings.

REDUCE ELECTRICITY PAY-OUT
High input power factor > 0.99 reduces electricity pay-out and saves on investment cost.
LOOKING FOR BATTERIES FOR YOUR UPS SYSTEM?
Take a look at our extensive range of UPS batteries.
View UPS
The Power Sonic Brand Promise

Quality
Manufactured using the latest technology and stringent quality control, our battery products are designed to exceed in performance and reliability.

Experience
Our focused approach to exceptional end to end customer experience sets us apart from the competition. From enquiry to delivery and everything in-between we regularly exceed our customers' expectations.

Service
Delivery on time, every time to customer specifications. We pride ourselves on offering tailored service solutions to meet our customers' exact specifications.