Faster
EV charging

anywhere.

At EVESCO, we help businesses deploy scalable, fast electric vehicle charging solutions that free them from the constraints of the electric grid through innovative energy storage
The EVESCO mission is to accelerate the mass adoption of electric vehicles by delivering sustainable fast-charging solutions, which can be deployed anywhere. Our innovative energy storage is enabling customers worldwide to build faster, more reliable, and future-proof EV charging networks, including in locations with little or no electric grid availability.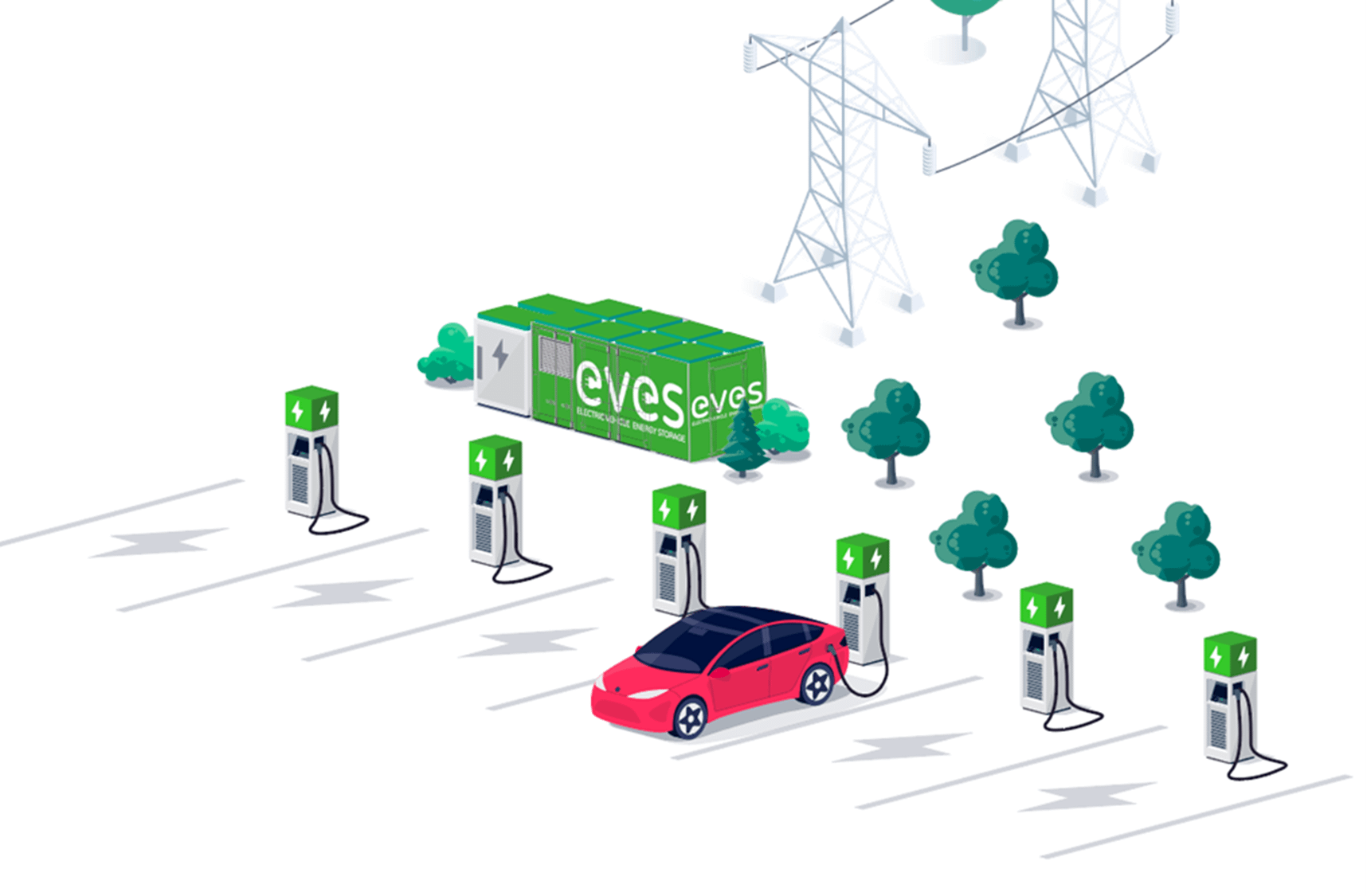 OUR
SOLUTION
We combine proven battery and power conversion technology with intelligent energy management and the latest charging capabilities to provide businesses, governments, and utilities with flexible electric vehicle charging solutions that deliver more power, lower energy costs, optimize energy usage and increase grid resilience.

Our energy storage solutions are power source agnostic and can integrate with a variety of different power generators in both on-grid and off-grid scenarios. If a grid connection is unavailable we can integrate with renewables such as solar and wind, power generators utilizing biofuels or natural gas, and fuel cells powered by hydrogen for a completely off-grid, net-zero electric vehicle charging solution.


COST-EFFECTIVE
Increases power output at the fraction of the time and cost of other solutions
Reduces installation costs by eliminating the need to upgrade electric grid infrastructure
Reduces energy costs and eliminates high demand charges for electric vehicle charging
Flexible business models available which include lease options

SMART
Integrates with AC and DC electric vehicle chargers
Power source independent allowing for completely off-grid EV charging
Energy optimization dramatically reducing energy costs for vehicle charging for grid-tied solutions

FAST
Fast to deploy and re-deploy
Delivers fast and ultra-fast EV charging capabilities
Fast to adapt to new technologies and charging rates

FLEXIBLE
Standard sized systems can be easily configured with a wide range of energy capacity and charging rates
Can work with any EV charger brand including ultra-fast chargers and wireless charging solutions
Can be configured to work with multiple power sources and loads

SCALABLE
Modular design makes for quick and easy scalability
Scale up the number of EV chargers and energy capacity as EV adoption numbers grow

SAFE
Designed inclusive of HVAC, fire suppression, BMS, and other safety features ensuring optimal conditions for performance and longevity
Battery system tested to UL9450a testing method
All-in-one energy storage systems compliant to UL9540

MOBILE
Robust internal and external structure allows for redeployment for temporary or semi-permanent installations
Up to 20ft containerized energy storage systems delivered 95% - 100% pre-assembled
Can be deployed anywhere EV charging is needed

FUTURE PROOF
Designed to meet current and future charging demands and give more control and resilience over your energy usage
How it works
Below we take a look at the difference between traditional EV charging solutions and the EVESCO solution.
EVESCO takes power from the grid and/or other generation sources and intelligently stores it for use when it is needed.
Increases power output to deliver fast and ultra-fast charging at locations with limited grid availability
Reduces energy costs and maximizes revenue through optimized energy management
Creates a more reliable and resilient utility grid by utilizing stored energy during peak times
EV charging stations will work during power outages and grid events, especially important during emergencies or evacuation scenarios
Optional ability to integrate with site-building to further reduce energy costs and add resilience during power outages
EV charging stations take their power directly from the electric grid.
Limited by the number and type of chargers that can be deployed based on electric grid power availability (in many key charging destinations grid power is already limited resulting in no available power to introduce EV charging )
Subject to high demand charges and high-cost energy for usage in peak times
Puts additional strain on the electric grid during peak times
Chargers will not work during grid power outages
Learn how EVESCO can help you deploy future-proof EV charging
Our team of EV charging and energy storage experts will take the time to fully understand your business, challenges, and opportunities.
Talk to an expert
EV charging for your industry
EVESCO has deep expertise in the energy storage and EV infrastructure industry; we leverage this experience to bring you the most advanced and reliable solutions to keep your business on track to meet your objectives.
Fleets
Fleets primed to go electric. EVESCO provides electric vehicle charging solutions that meet the needs of any type of fleet.
Fleet EV Charging
Retail
Forward-looking retailers are realizing the huge opportunity in catering for EV drivers. The time to get future-proof EV charging is now.
Retail EV Charging
Fuel retailers
EV charging will play a major role across all types of fuel retailers and gas stations. Adopting the right strategy for EV charging will be essential. We can help define that strategy.
EV Charging for Gas Stations
Hotels
Hotels are in a unique position to differentiate themselves in an emerging market of EV owners by investing in EV charging, benefitting guests, hotel workers, and future customers.
EV Charging for Hotels
Utilities
EVESCO electric vehicle charging and energy storage solutions give utilities a unique opportunity to gain a potential lever for balancing energy demand and supply.
EV charging for utilities
Car park operators
Electric vehicles have created game-changing opportunities to drive revenue growth in the parking industry. EVESCO can help to maximize that opportunity.
EV Charging for Parking Operators
Dealerships
The introduction of the EV is a turning point for car dealerships. By implementing the right EV charging environment, dealerships can maximize EV sales opportunities.
EV Charging for Auto Dealerships
Charging network operators
EVESCO offers charging network operators the opportunity to expand their networks by increasing the power output at locations with limited grid availability.
Energy storage for EV charging
Local governments
Local governments and municipalities have the potential to showcase their commitment to a sustainable future with future-proof EV charging solutions, which help support the local power network.
EV Charging for Towns & Cities
Workplace
EV charging is an effective way to attract, retain and engage employees while meeting sustainability goals for your business.
Workplace EV charging
Mobile or temporary
EVESCO's containerized EV charging stations are fully mobile and can be configured to work completely off-grid, delivering high-power charging anywhere.
Off-grid EV charging
Airports
Bringing together thousands of vehicles from travelers and employees, airports are an ideal location for EV charging. EVESCO's innovative solutions can help airports reduce their carbon footprint.
EV Charging for Airports
Multifamily housing
The demand for EV amenities is growing fast, position your building as the most resident-focused and 'green' building around with sustainable EV charging solutions.
EV Charging for Multifamily
REDUCE COST
MAXIMIZE REVENUE
Demand charges and peak energy costs are major barriers for businesses looking to implement electric vehicle charging. EVESCO's intelligent energy storage and power conversion technology can dramatically reduce these peak energy costs resulting in a competitive edge against your competition and lower total cost of ownership.
Find out more
Energy Storage
Solutions
EVESCO energy storage systems have been specifically designed to work with any EV charging hardware or power generation source.

Utilizing proven battery and power conversion technology, the EVESCO all-in-one energy storage system can manage energy costs and electrical loads while helping future-proof locations against costly grid upgrades. It allows customers to benefit from clean, scalable energy infrastructure and meet a variety of goals, including transitioning to EVs, reducing energy costs, reducing carbon footprint, implementing corporate social responsibility initiatives, and displaying innovation.

View Energy Storage Solutions
EV Charging
Solutions
EVESCO offers a comprehensive range of stationary and mobile electric vehicle charging stations for business and public charging. AC and DC chargers are available in a wide range of charging capacities to suit global market requirements. The combination of EVESCO's energy storage systems and EV charging stations enables our customers to deliver a fully optimized, high-power EV charging experience. Discover how to invest in EV charging stations as a business opportunity and why more businesses are deploying EV charging.

View EV Charging Solutions