The social determinants of health are the conditions in which people are born, grow, live, work and age. It is they that are mostly responsible for health injustices around the world. Something that is not widely considered to be a factor within the social determinants of health, but most certainly should be is electricity.
There are a vast number of patients that rely on medical equipment every day. In the US alone, 2.5 million people need power critical medical equipment every day. In the UK, there were, in 2018, 64 thousand patients in a minimally conscious state – a power outage, even a short term one, could be the difference between life or death.
Across the world, the ability to have medical equipment work unerringly in central or remote regions is non-negotiable. When your power source is uninterruptable, there is less chance of any life-altering changes to occur – especially if you are already vulnerable. Those living remotely are more susceptible to harm; particularly for patients who live solo, reliance on electricity for their medical equipment and therefore health leaves them feeling uncertain, especially when help may be miles away. With countries and states that are susceptible to natural disaster and the forces of nature, vulnerable patients can be left without power.
Of course, it is not just life-saving equipment that is at risk when there is a power outage – it is care equipment and independent living aids that are at risk too. Those relying on stairlifts, bath hoists or even just fridges for the safe storage of medication will also suffer. It is true that a large amount of this style of equipment will not have power back up, or will have a short term battery power back up.
It is precisely these problems that need innovation and change when it comes to energy storage. Having better options, more readily available to healthcare, no matter where work is taking place must be considered a factor of the determinants of health.
Why it is Time for Healthcare to Embrace New Energy Solutions
Catastrophes from recent years have pushed new energy solutions into the limelight in order to avoid disastrous incidents like the aftermath of Hurricane Maria. It devastated Puerto Rico, and in the aftermath, medical device failure due to lack of electricity, and general power failure, accounted for a third of the 4,645 additional deaths over the next three months.
Natural disasters and other natural phenomenon are not going anywhere, which means our dependency on medical devices is unlikely to let up. Battery storage and other sources of backup power during power outages for the medically vulnerable is something healthcare executives should be looking into.
The Role Batteries Have to Play for Healthcare
In times where there are power outages, and backup is required, advances in battery technology are vital to keeping medical equipment running. Progress made in sealed acid, and lithium batteries mean that more lightweight and compact options are becoming more readily available. These batteries can be made compliant for several different applications including mobility equipment, medical carts or can be custom-built for equipment such as nebulisers or pacemakers.
Use of batteries can increase run time and efficiency and are more economical than other backup power sources available. To make batteries viable for this type of medical supply, having data to find where needs are at their most desperate will be essential and putting strategies in place to make sure energy storage is readily available.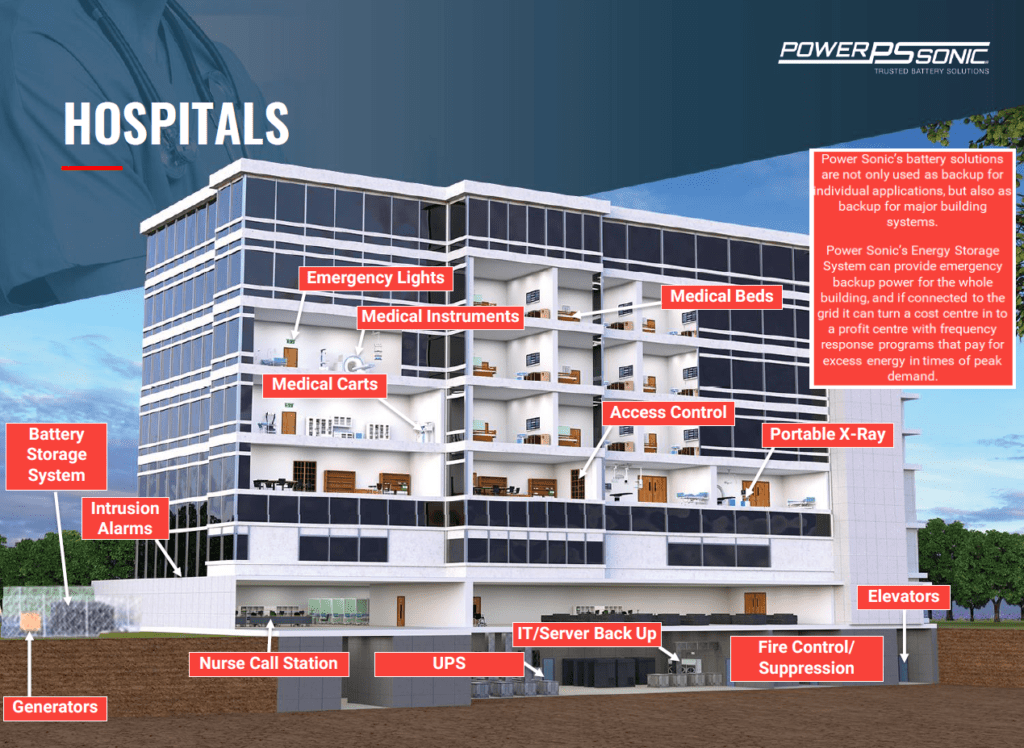 Will Decentralised Energy Be the Future of Healthcare?
While decentralised energy grids are not common knowledge and are yet to be something heavily adopted – most electricity still comes from the main network. However, decentralised energy not only is much more environmentally friendly, but they can also ensure productivity, even in times where there is no power available from the network.
Innovations like our very own Demand Response Module, enable an intelligent interaction of microgrids, distributed energy storage and distributed generation. Therefore, decentralised energy could be the route to keeping isolated areas or areas susceptible to power shortages powered.
In areas where solar, wind or hydro energy generation is more of a possibility, decentralised energy grids can make a big difference. They eliminate the need for an alternative, or even multiple, backups. Ultimately, their use fonts the battle for a more sustainable and reliable network that will become the energy network of the future.
Electricity networks of the future must consider healthcare to make sure we are not leaving patients overly vulnerable.
What Healthcare Must Strive for in Its Energy Storage
Healthcare, and the decision-makers within it, must understand the unquestionable role energy has in patient safety and care. Now is the time to ensure that steps are being taken to ensure the uptake of modern energy solutions and that areas, where natural disasters are more prominent, are ready for power outages. Learning from the mistakes of the past is imperative. It's time for a sustainable and patient-centric energy approach.
With nearly 50 years of experience in the battery industry, Power Sonic are leaders in innovative energy storage solutions. If you are working in a healthcare environment and would like to discuss any of our solutions further, contact us today. We are ideally placed to help you move forward and provide the right care for your patients.