PowerModular - High Performance Modular and Scaleable UPS Solutions
With 96% high efficiency, the PowerModular UPS series is ideal for data centers and critical power applications as they increase the availability of a system by adding modules . The removal or adding of modules can be carried out with the system running (hot swap) without affecting the general operation of the installation.
RANGE FEATURES
High performance, modular three phase power protection
96% high efficiency
Scalable up to 2080kVA
True online double conversion and advance DSP control technology
N+X Parallel Redundancy
Hot swap modules without affecting operation
Manufactured in Europe with high quality components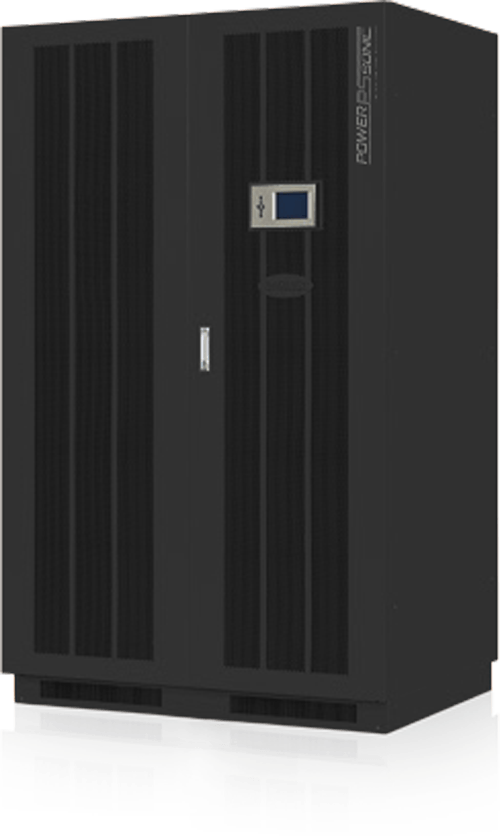 The PowerModular Series is a scalable, redundant modular uninterruptible power supply (UPS) system designed to cost effectively provide high level availability for high density data centres and critical applications. Modular Architecture can scale power and runtime as demand grows or as higher levels of availability are required. Scalable up to the highest active power rating available through two-dimensional modularity: Vertical and Horizontal. Plug and play battery modules ensures uninterrupted power supply to protected equipment while batteries are being replaced.

RELIABILITY
True online double conversion and advance DSP control technology ensure high reliability and availability.

HIGH EFFICIENCY
Fully-rated power kVA=kW feature option reduces cost by eliminating the need for an oversized UPS for power factor corrected loads.

N+X PARALLEL REDUNDANCY
Users can set different redundancy according to the importance of the load

INDEPENDANT CONTROL
Every power module is equipped with an independent control system and can separate from the system automatically.

SCALEABLE
Modular architecture can scale power and runtime as demand grows or as higher levels of availability are required.

CONTINUOUS OPERATION
Hot swappable battery modules allow for quick and easy battery replacement while power to equipment is protected.

SAVE ENERGY
Designed for highly economical energy consumption with 96% efficiency.

REDUCE INSTALLATION COSTS
High input power factor (>0.99) and low input Total Harmonic Distortion (THDi<2%) minimizes installation costs by enabling the use of smaller generators and cabling
Looking for batteries for your UPS system?
Look at our comprehensive range of batteries for UPS.
View UPS
The Power Sonic Brand Promise

Quality
Manufactured using the latest technology and stringent quality control, our battery products are designed to exceed in performance and reliability.

Experience
Our focused approach to exceptional end to end customer experience sets us apart from the competition. From enquiry to delivery and everything in-between we regularly exceed our customers' expectations.

Service
Delivery on time, every time to customer specifications. We pride ourselves on offering tailored service solutions to meet our customers' exact specifications.