PowerLevel T3 - Transformer Based UPS System 10kVA - 200kVA
With innovative 3 level technology and an embedded isolation transformer, the PowerLevel T3 is one of the most reliable and safe transformer based UPS systems for data security and other critical power applications.
RANGE FEATURES
True three level rectifier and inverter technology
Ultra-high energy efficiency
10kVA - 200kVA
Output power factor of 1 (kVA=kW)
Built in inverter transformer for DC-AC galvanic protection
DSP vector control at input and output
Manufactured in Europe with high quality components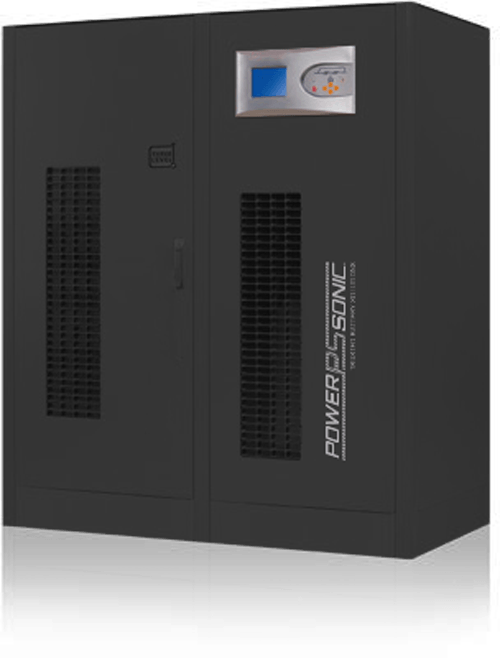 PowerLevel T3 Series is a true VFI online double conversion, three-phase transformer based UPS system with Innovative 3 Level Technology and is designed to provide high level of energy efficiency, together with reliable and robust protection, for the most demanding industrial and medical environments. Real full power kVA=kW (unity power factor design) means 25% more active power available compared to more conventional UPS systems. The PowerLevel T3 UPS has been designed with an integrated transformer ensuring galvanic isolation on the output for ultimate safe isolation. It's easy to install and maintain and can be integrated in to even the harshest of environments making it ideal for critical loads.

HIGH EFFICIENCY
Less energy consumption to supply the loads thanks to high efficiency up to 96%.

MORE POWER
Output power factor of 1 (kVA=kW) delivers 25% more active power.

LONGER LIFE
Advance battery management system that monitors and reacts to multiple parameters to maximize battery life.

MAXIMUM AVAILABILITY
Parallel configuration up to 8 units per redundancy (N+1) and power increase.

RESILIENCE
Optional IP31, IP41 protection degree for harsh environments.

FLEXIBILITY
External battery cabinets for different sizes of batteries to provide extended runtimes.

SAVE SPACE
Compact footprint and matching battery cabinets.

REDUCE COSTS
High energy efficiency reduces energy loss, electricity usage and operating costs of the UPS.
Looking for batteries for your UPS system?
Look at our comprehensive range of batteries for UPS.
View UPS
The Power Sonic Brand Promise

Quality
Manufactured using the latest technology and stringent quality control, our battery products are designed to exceed in performance and reliability.

Experience
Our focused approach to exceptional end to end customer experience sets us apart from the competition. From enquiry to delivery and everything in-between we regularly exceed our customers' expectations.

Service
Delivery on time, every time to customer specifications. We pride ourselves on offering tailored service solutions to meet our customers' exact specifications.