PowerClever - The smart choice for dependable 10kVA - 120kVA UPS solutions
Equipped with an IGBT rectifier and sizes ranging from 10 – 120kVA, the PowerClever series of UPS offers reliability, efficiency and flexibility.
FEATURES
High performance & low total cost of ownership
IGBT PWM Rectifier & Inverter Technology
Low Input Current THD (<3%)
High Input Power Factor (>0.99)
Advanced Battery Management
Manufactured in Europe with high quality components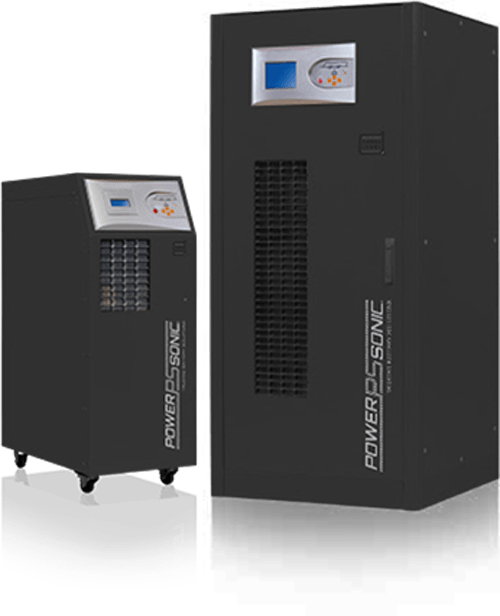 Equipped with an IGBT rectifier, the PowerClever Series of UPS (uninterruptible power supply) keeps your critical loads protected while its space-saving compact design and front access reduce mean time to repair. The PowerClever UPS has a high input power factor of >0.99, which leads to reduced electricity pay-out, minimizes cable, switchboard, fuse and generator requirements, delivering a reduction in investment cost. Ideal for a range of critical power applications and industries including: medical, data centers, transportation, IT, telecoms and more. PowerClever saves valuable floor space and significantly reduces total cost of ownership.

RELIABILITY
Loop connection helps ensure the UPS delivers continuous operation.

MORE POWER
High output power factor of 0.9 provides more power to critical loads when needed.

LONGER LIFE
Advanced battery management reduces the chance of the batteries being used and helps sustain battery life and performance when they are used.

MAXIMUM AVAILABILITY
Parallel configuration up to 8 units per redundancy (N+1) and power increase.

MORE DATA
500 real time event logs with detailed parameters

FLEXIBILITY
External battery cabinets for different sizes of batteries to deliver extended runtimes.

SPACE SAVING
Compact design for small footprint and easy maintenance.

REDUCE COSTS
High input power factor >0.99 reduces electricity pay-out and saves on investment cost.
Looking for batteries for your UPS system?
Look at our comprehensive range of batteries for UPS.
View UPS
The Power Sonic Brand Promise

Quality
Manufactured using the latest technology and stringent quality control, our battery products are designed to exceed in performance and reliability.

Experience
Our focused approach to exceptional end to end customer experience sets us apart from the competition. From enquiry to delivery and everything in-between we regularly exceed our customers' expectations.

Service
Delivery on time, every time to customer specifications. We pride ourselves on offering tailored service solutions to meet our customers' exact specifications.