DRM - Innovative energy storage solution for smart energy management
Our DRM system has everything needed to connect to a building or utility network. It is incredibly easy to install, integrate and maintain.
Range Features
Ultra high efficiency
High performance in any climate
Modular, flexible and scalable
Smart energy management
Multi grid support functions
Innovative demand response software
Reliable, field proven technology
Compatible with different storage technologies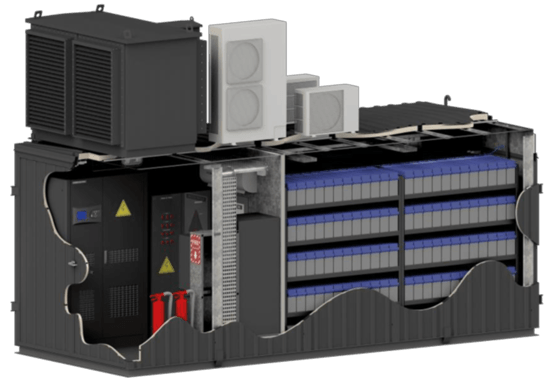 A fully integrated, unique energy storage solution for medium and high voltage grid connection. A solution that delivers savings and clean, reliable power to a large range of customers.

The Power Sonic DRM system enables fast response times to variations in demand and supply, helping maintain grid stability and ensuring reliable, high-quality energy supply response through a range of applications.

GENERATE INCOME
Delivers exceptional returns on investment by outperforming criteria set by grid operators.

PROVEN TECHNOLOGY
Field proven technology designed for long life and high performance in any climate.

SCALABILITY
We can scale to the space, power and energy requirements of any customer. Infinite scalability in modules of 500KVA and 1MW.

EFFICIENCY
A fully integrated, unique energy storage solution that offers high efficiency of up to 99%.

EMERGENCY BACKUP
Provide backup power to your business in the event of a power interruption. With the DRM system you will have clean, reliable and uninterrupted power. A complete system that eliminates the new for multiple backup systems.

MICRO GRID
You can use the DRM system to create a localized grid that doesn't need to be connected to the main power grid and can operate independently.

RENEWABLE ENERGY
The DRM system can seamlessly integrate with renewable power generation sources such as wind and solar ensuring a smoother power output.

RESERVE CAPACITY
The DRM system can provide power and energy capacity to the power grid as a stand-alone asset.
Designed by Experts
Power Sonic has been a leading force within the power solutions industry for nearly fifty years. The same amount of expertise, quality control and innovation has gone into developing the DRM system. The cutting edge software has been designed to specifically operate the technology to maximize efficiency and reliability.
Find out more
The Power Sonic Brand Promise
Quality
Manufactured using the latest technology and stringent quality control our battery products are designed to exceed in performance and reliability.
Experience
Our focused approach to exceptional end to end customer experience sets us apart from the competition. From enquiry to delivery and everything in-between we are regularly exceeding our customers' expectations.

Service
Delivery on time, every time to customer specifications. We pride ourselves on offering tailored service solutions to meet our customer's exact specifications.